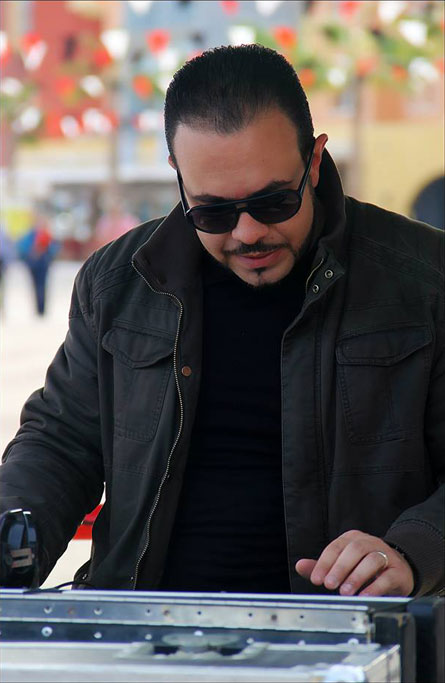 What began as a love for music, and passion for deejaying, slowly transformed into a life-changing path of artistic talent and collaboration with some of Egypt's most renowned musicians. Essam El-Saharty is an Egyptian Audio Engineer and Record Mixer and Producer, and has worked with artists and bands such as Sami Yusuf, Aly El Haggar, Omar Khairat, MassarEgbari, Outlandish, Cairokee, and Salalem.
Hobby Turns Career
Born and raised in Dubai, Saharty was exposed to music at a young age, and used his love for music to launch his early career as a DJ for local parties and events surrounding his hometown. Eager to learn more about his hobby, Saharty moved to Alexandria, Egypt, in 1998 to study electronic engineering at The Academy of Science and Technology. It was there that he got his first "official" gig with his role as the university's DJ. Saharty had always been more familiar with the listening side of music, with a natural knack for mixing beats and utilizing beat sequencing software, until a friend offered a guitar lesson. At that very moment, he was struck with the "music virus" and knew his love for music was much more than a hobby—it was his true passion.
Ready to immerse himself in the industry and foster as much experience as possible, he began assisting his musician friends to record their demos and started engineering the backend of their live performances. Due to fantastic end-results, and much to his own surprise, Saharty started becoming inundated with calls and requests from local artists and bands looking to hire him.
After just a bit of experience proving his talent, Saharty's career started to take off. In 2002, he was offered a Resident Audio Engineer position at Alex Music—the only professional recording facility in town at the time. Shortly after in 2004, Voice Records hired him as the Chief Engineer of their studio, where he arranged, produced, and mixed a variety of mainstream jingles, songs, and commercials for local artists, bands, and organizations.
After working there for 2 years, Saharty's sound engineering experience starting taking center stage, and appreciation from indie bands started drastically increasing, much of which can be attributed to his well-deserved position at Bibloteca Alexandrina as the Front of House Engineer for The Independent Music Festival of 2006. All throughout his new ventures, Saharty was still a student, until in 2006 when he graduated from the Electronics & Communication Engineering department with a degree in Audio Signal Processing.
To advance more in the industry, 2007 brought a move to Cairo, where Saharty joined the Cairo Jazz Club as the Sound Engineer and Technical Supervisor. He spent time freelancing as a Record and Mixing Engineer at various studios including Sound Design and Wave Production House before joining the team at Sawy Culture Wheel where he filled the role as Head of the Sound Reinforcement department, and eventually the Technical Director in 2011.